Today, global leaders and activists are issuing a joint call to mobilize businesses, faith communities, elected officials, civil society and citizens everywhere to commit to a decade of accelerated action for people and for planet to achieve the Sustainable Development Goals (SDGs) by 2030.
Coming at the end of the UN's SDG Summit – the first since the Global Goals were agreed – young leaders are driving demands for greater action, awareness and accountability from all sectors to drive much faster progress on the Goals that all nations signed up to at the United Nations in 2015.
"Our world and our future are under threat from persistent poverty, inequality, and the climate crisis," said Trisha Shetty, Indian activist and Founder of SheSays "We are off track to meet the Goals by 2030. We, the young, demand more from all our leaders across governments, sectors and communities, and we will hold you to account."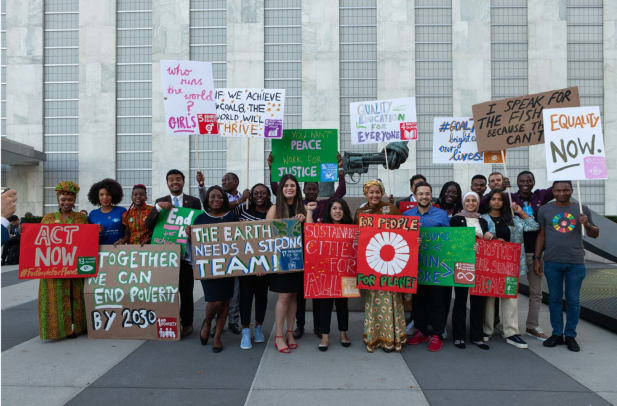 Shetty, Joannie Bewa, Physician and Women's Rights Activist from Benin, and Burak Berk Doulay, Cypriot Activist and Co-Founder of Cyprusinno, will also address world leaders at the SDG Summit, calling on them to pledge support and drive a dramatic change of course in 2020.
UN Deputy Secretary-General, Amina J Mohammed, said: "Governments remain united behind the 2030 Agenda and the Paris Agreement. But they simply cannot do it alone. Given the challenges we face, we need to widen the tent and deepen the engagement.
The Secretary-General is calling for an unstoppable global movement that is united for both people and planet. Today's announcement of a super year of activism in 2020 holds the key to growing this movement and to delivering a decade of action for the SDGs."
The announcement of the 2020 Super year initiative comes as two major scientific reports underline how far off track we are to achieve the SDGs by the 2030 deadline, and to tackle the climate crisis. The Global Sustainable Development Report warns that progress made over the last two decades is in danger of being reversed through worsening social inequalities and potentially irreversible declines in the natural environment. Meanwhile the latest IPCC report indicates a dramatic decline in the health of the world's oceans.
Richard Curtis, SDG advocate and Co-founder of Project Everyone said: "We know when people come together progress is possible. 2020 is a moment to unite for a Decade of Action and make sure we get on track to achieve the Global Goals by 2030. That means campaigning for major global policy breakthroughs, major new finance for the Goals, sparking ever greater local and regional activism, and creating cultural moments that break into the mainstream. We will be a third of the way through the Goals - it is a crucial year for everyone who believes in them to join forces, from young activists to global companies, to take action and to fight together against poverty, inequality and the climate crisis."
The event at the UN today is also expected to feature, among others, Nobel Laureates Kailash Satyarthi and Muhammad Yunus, UNICEF goodwill ambassador and Syrian youth activist Muzoon Almellehan, South African writer and activist Zoleka Mandela and Game of Thrones Star and UNDP Goodwill Ambassador Nikolaj Coster-Waldau.
- ENDS -
SOURCE LINK: https://www.globalgoals.org/news/a-new-mobilization-begins-to-accelerate-action-for